This post is also available in:

Burmese
Google Photos is one of the useful applications for mobile phone users especially popular for providing unlimited storage to high quality photos.
5 years after renaming Picasa, Google Photos refreshes new logo, new UI and adds new features too.
New Logo
Google adapts new logo from old pinwheel and pointed ends become round and flat.
New UI Design
Besides logo, UI becomes clearer design. Four tabs at the bottom become three – Photos, Search and Library.
Photos – As usual, Photos as a main tab collects all photos and videos. Photo thumbnails become larger and video thumbnail becomes autoplay.
Search – Search plays an important role as many as numbers of photos and videos. Therefore, Google moves search to center.
Library – Library includes collections of all features of photo gallery like albums, favorites, trash, archive.
New Feature
Google integrates a map as a new Search function and photos can be searchable by moving locations on map. For example, Move location to Bagan if you want to see photos and videos taken in Bagan.
Memories Features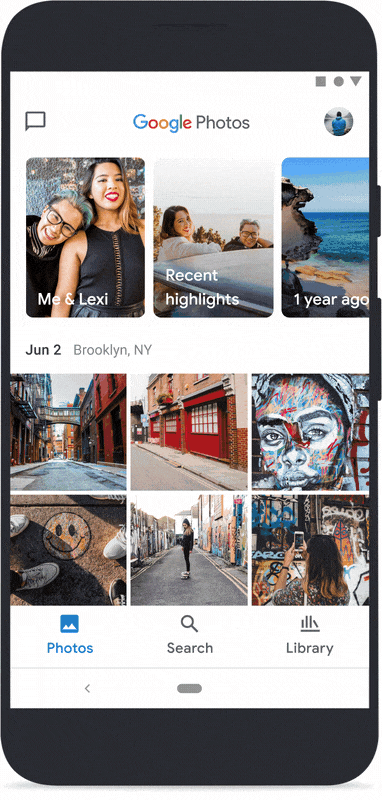 Another new one is Memories. In fact, Memories is not a new feature which is available since September 2019. But in this new version, Memories upgrade to more sophisticated function. Memories can reveal best memories with your loved ones, best photos in a trip,etc.
Yes. Some bad memories should not be reappear. So Google adds an option to hide certain person and certain period.
Already updated but still old version.
Although Google officially release new version, it will not be available for users immediately. Google said they are doing server update and new version will be available within a week.