This post is also available in:

Burmese
There are not too much VPN users in Myanmar in our old days. But because of the current political situation, Myanmar people must use the VPNs to use the facebook and other websites which are banned by the military juntas. So we will present about VPNs like what VPN is, how VPNs work, etc.
We have to connect the internet via the Wifi or Mobile Data. These are the public networks where everyone have to access. In some countries, the authorities block the access to certain websites. In China, Google and Facebook are blocked and in Myanmar, most social medias like facebook, twitter and instagram including Wikipedia are blocked.
There may be free wifi in some public places like shoping centers and some coffee shops. Those free wifis should not be used to access your important datas. Your personal data can be breached.
Therefore, the private network must be used to protect your personal information and to prevent tracking on the internet. VPN is such kind of the private network.
About VPN
VPN stands for Virtual Private Network. Some uses VPN for the privacy safety and some uses to bypass the blocked websites.
When we start using the VPN_
Your traffic is routed through an encrypted tunnel to a server operated by the VPN company.
The data goes through your ISP, but it's been so scrambled because of the encryption, they can no longer decipher it.
The encrypted data from your computer is decrypted by the VPN server and sent to the destination (websites or apps you want to connect).
The VPN server receives the reply from the destination and encrypted the data before sending back to you.
The VPN client on your device will decrypt the data.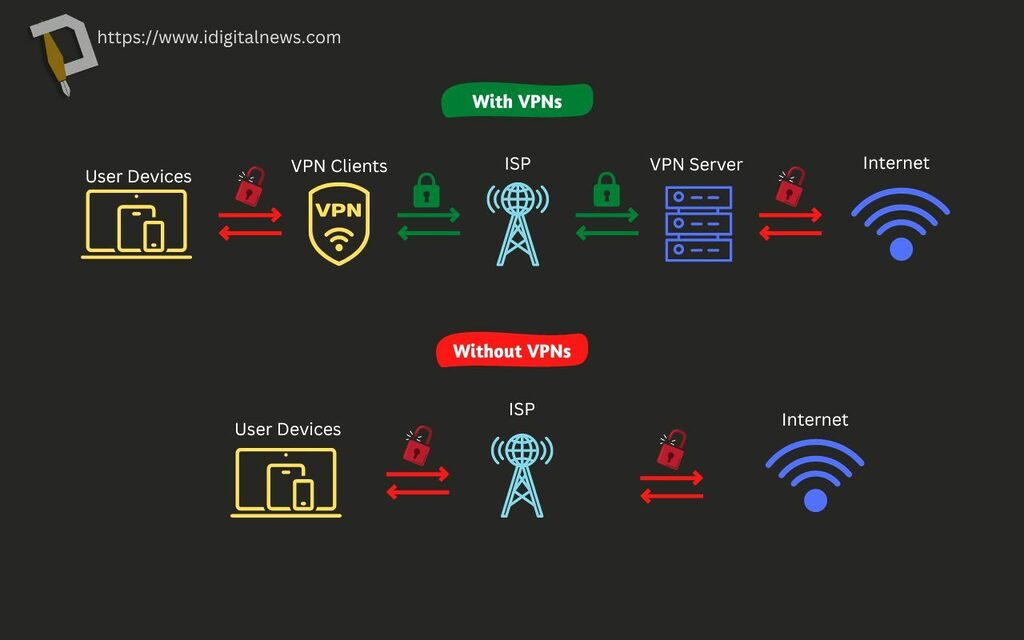 .
Which VPNs should we use
We should know about the VPN before choosing it.
There are a lot of free VPNs and paid premium VPNs. Most free VPNs are not safe and not all of the paid VPNs can't be trusted as well. Therefore, you should check the privacy policy of the VPN campany.
When we choose the VPN, we should also check the network speed. And we also need to check whether it stores or records the user information. We should not use those VPNs which store the user information. Some VPNs stores the user information and sells to other third parties.
The number of VPN server location also should be checked. The more VPN servers location, the easier it is to be used. For example, if the server location which you are using is busy because of a lot of users, you can choose different server location. Last, not least, price should also be consiered.